Term-PRO Enclosure Design Software Download
The software is delivered via DOWNLOAD. (Nothing is physically shipped.) An email will be sent with download instructions. 
Term-PRO is a Windows-based software application developed for designing low-frequency loudspeaker enclosures. The software greatly simplifies the design and analysis of enclosures; including sealed, vented, bandpass, and isobaric variations. An extensive loudspeaker library, a vent design and analysis module, and a 3D CAD engine for wood design and fabrication are also integrated into the program.
A FREE online self-paced instructional training module will get you up and running quickly. A strategic, operational overview of the software is presented along with real-world design objectives and techniques for developing sub-woofer enclosures quickly and efficiently using the Term-PRO program. Access Online Training Module: TERM-PRO TRAINING

Comprehensive Driver Library
Support for 12 different types of enclosures
Three different port types
Three different enclosure styles
3D rendered representations of the vent and enclosure design
Blueprints for each panel including table saw blade angles
Support for both English and Metric units
Includes 1 Year software updates and tech support. After 1 year, the software will continue to operate however live tech support and updates will not be available unless maintenance is renewed.
Requires Windows 7, 8, or 10 and graphics card with 3D support
IMPORTANT - Due to the nature of this product (software that is used to design enclosures), we cannot offer refunds once the software has been activated. Thanks for your understanding.

New Features - Hole Placement, CAD Export, More!
Screen Shots
The Term-PRO Driver Library contains many of the industry's most popular drivers. New drivers are constantly being added to the database. Updates are provided to customers automatically via the internet. Users may also add their own drivers if they choose. You can compare and save designs.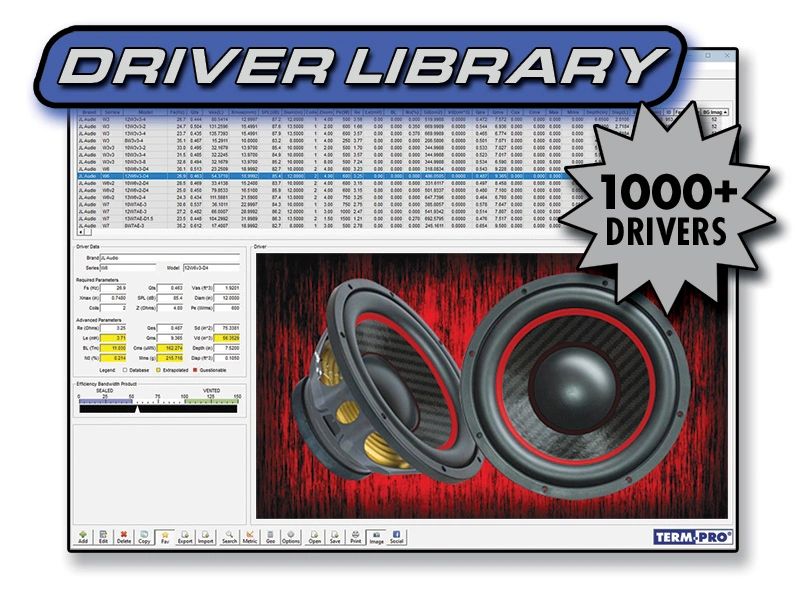 Term-PRO supports 12 different types of enclosure types. These include Sealed, Vented, Single-Reflex Bandpass, Dual-Reflex Bandpass, Three-Chambered Single Reflex Bandpass, Three-Chambered Dual-Reflex Bandpass, and Isobaric variation.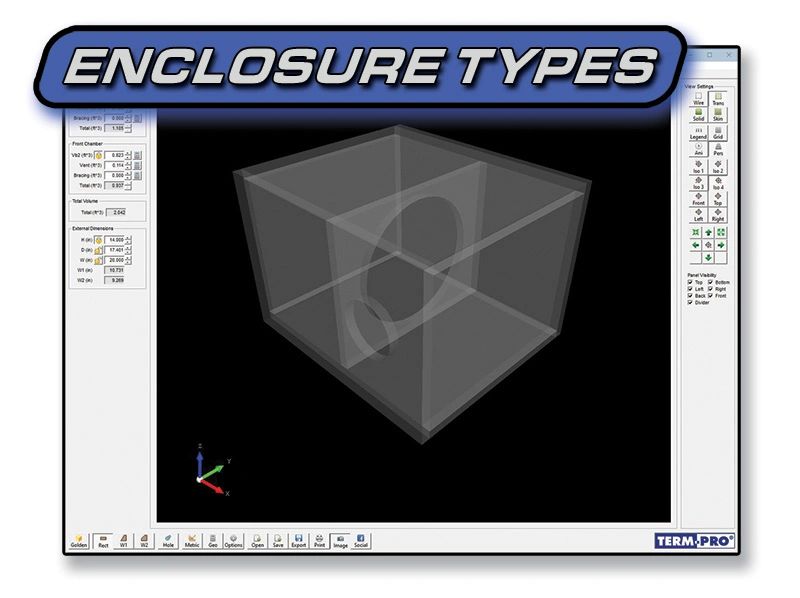 Term-PRO supports three different vent types. These include Pipe, Aeroport, and Rectangular. Vent air velocity is also displayed. A 3D viewort allows the user to view the vent design from any viewing perspective.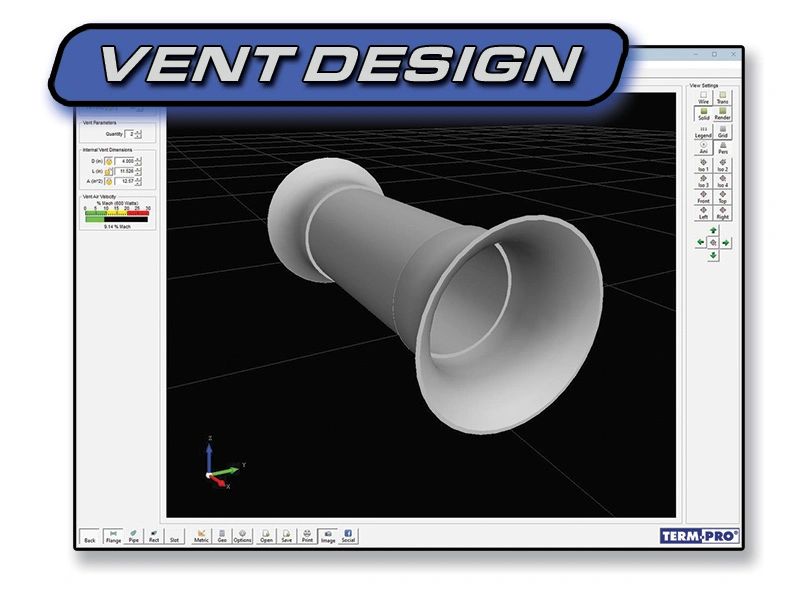 Term-PRO provides support for three different enclosure styles. These include Wedge 1, Wedge 2, and Rectangular. The user may control the thickness of the construction material as well as the end-panel inset value. You can indicate hole placement on the panels to visualize the finished product.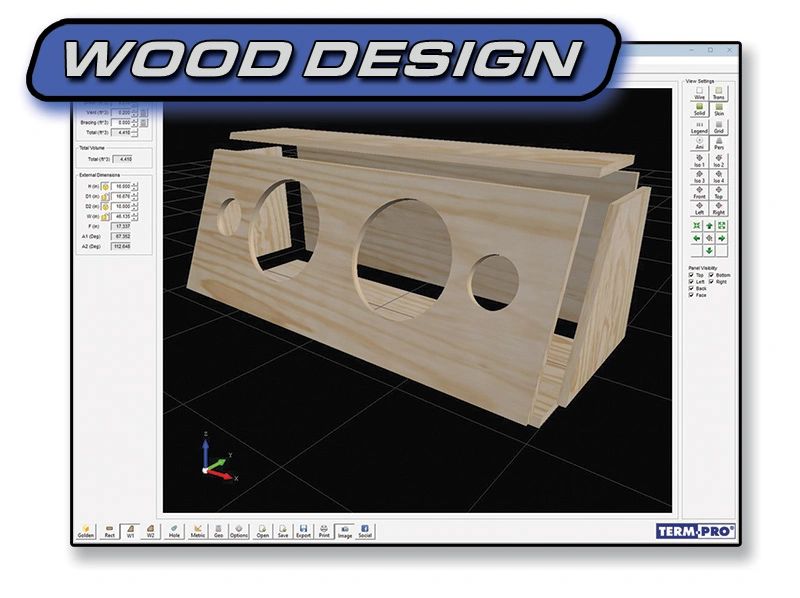 The visibility for each panel can be enabled or disabled to provide better insight into enclosure assembly.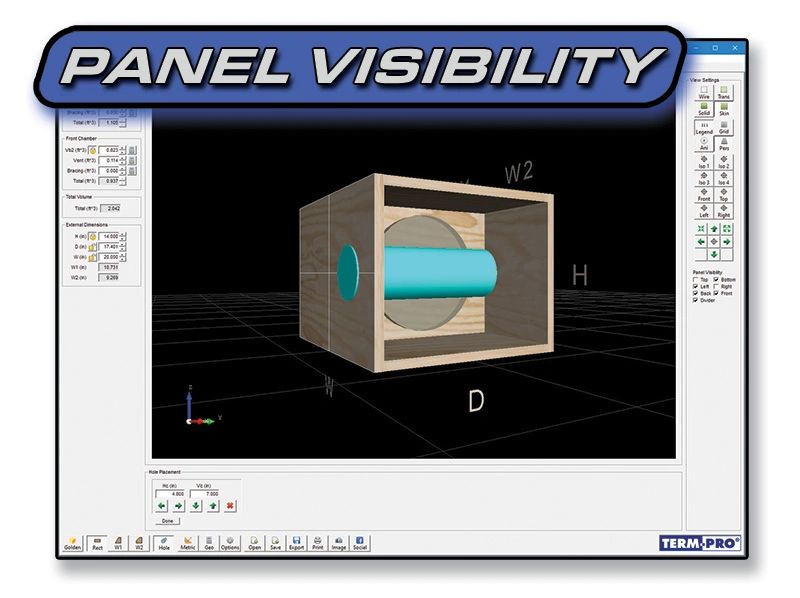 Term-PRO will print out blueprints for each panel that needs to be cut, including hole placement. The blueprint even includes the table saw blade angles for each cut. You can also export multiple file types to be used in CNC machines.